Bombay Quiz Club
After the longest time, the Bombay Quiz Club reconvened with many fresh faces, none of which had been illegally modified to evade the law. Driven by vicious
pro-Housie, anti-quizzing sentiments
, we moved from the
outskirts
of Mumbai to the YWCA's excellent facilities in suburban
1
Colaba. There were 25 extremely enthusiastic people. Evidently our public martyrdom has attracted many people to our cause.
The quizmaster was that well-known
public servant
Gaurav Sabnis. The quiz was intended to be a solo event; indeed, the prelims were attempted individually. But then, in order to ensure maximum participation, we decided that the top 6 scorers should pick a team for the finals. Everyone qualified.
The finals comprised more than 50 questions, both AV and dry, with a decided emphasis on Hindi/movies, local mythology and cricket. It was a closely contested quiz till the very end, until
Dhoomk2
, Naveen Venkataraman and Rohit Bhat emerged victorious, proudly waving their bloodstained standard above a mound of bodies
2
. Aadisht, Sanjeev and Kartik and Amit Varma and team also did well, cracking some tricky visual connects. Some good questions involved a combative chief from an Asterix comic, some unusual books in a very strange library and three award-winning movies which we know for different reasons.
More than half of our horde, ravenous and exhausted, then completed the afternoon's ceremonies by consuming roast oxen- or at least, truly enormous steaks- in Cafe Royal. It is possible that the vegetarians had the better deal: their sizzlers contained some intriguing looking mushrooms. Here's a picture of us at lunch: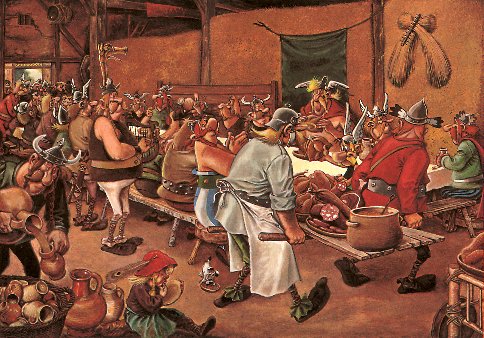 All pictures courtesy of
India Uncut
, Pieter Brueghel, Goscinny and Uderzo.
1. At the behest of some members, the bits of Colaba that are more northerly than other bits have been defined as suburbs.
2. This is only partially true. That is, the parts that are true are the parts that are not about body parts.